---
Dear Grant Pros, Non Profit Executives, and those that celebrate the good that grants do:
The last three years have been among the most interesting in our history. We have learned the significance of being part of a community. The value of collaboration. What it means to stand together. Our understanding of these things culminated at the 2022 Grant Professionals Association (GPA) Annual conference. Where we had the most people ever in attendance. Last year, the Grant Professionals Foundation (GPF) was able to award 64 scholarships, the most ever, thanks to your support. In fact, the foundation, pardon the pun, has a great foundation in place for the future. In 2023, our 17th anniversary, we will continue to support grant professionals with GPA membership, GPCI exam fee, and conference scholarships. Our work as the fiscal sponsor for the Arkansas GPA chapter will continue as we work to bring young grant professionals into the profession. To help grant professionals who are struggling, we will continue supporting the GPA Hardship Fund. In addition, in response to a desire expressed at the 2022 conference, I am working with the board to examine how we might launch a small research grant program. Speaking of anniversaries, 2023 is the year we will celebrate the 25th year of the Grant Professionals Association. As we embark upon the adventure that 2023 promises to bring, I would like to invite you to join with us as we seek to advance the profession. I challenge every Grant Pro to give $25 per month in honor of the GPA 25th anniversary. It is only with your financial support whether as an individual or as a GPA chapter, that we can advance the profession. Sincerely,

Reagan Lynch
Chair, Grant Professionals Foundation
Strengthening Nonprofits – Advancing The Grant Profession.
The Grant Professionals Foundation (GPF) was established in January 2006 to ensure resources are available to educate, credential and assist grant professionals who secure the funding necessary for not-for-profits to serve the greater good.
About Us
---
I Heart Grant Professionals.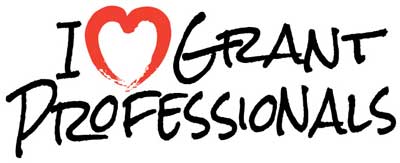 You can do good deeds, change the world one grant at a time, be passionate about your profession, and celebrate your colleagues.
Give today to support the GPF and all Grant Professionals! →
Apply Now.
You can learn more about each scholarship and how to apply by using the Scholarships tab in the menu. We hope you'll consider applying!
Scholarships