---
Dear Grant Pros, Non Profit Executives, and those that celebrate the good that grants do:

Thank you for your commitment to serving beyond yourself, for solving challenges in innovative ways, for connecting resources responsibly. You are what makes our world a better place!

I have this quote on my wall above my computer – the first thing I see each morning as I set down to work: "Action without vision is only passing time, vision without action is merely daydreaming, but vision with action can change the world." – Nelson Mandela

You write about vision every day, in every one of your proposals, how you see the world differently. But it is your actions of stepping out, writing and managing grants, and leading change in organizations around the world that are indeed changing the world.

Your commitment to the profession speaks volumes to your commitment to bringing forth this change. Your commitment to walking beside other grant pros and building and strengthening our profession is inspiring.

Because of you, grant professionals around the world have educational and networking opportunities they otherwise wouldn't have had. Because of you, non-profits achieve great things. Because of you, individuals' lives are transformed. Because of you, the world is a better place.

Our partners in this mission are the Grant Professionals Association, which educates and advocates for grant professionals, and the Grant Professionals Certification Institute, which defines the benchmark standards of the grant professional through credentialing.

I can't wait to see what happens in 2019 when we all passionately pursue this profession together!


Becky Jascoviak, MBA
Chair
Strengthening Nonprofits – Advancing The Grant Profession.
The Grant Professionals Foundation (GPF) was established in January 2006 to ensure resources are available to educate, credential and assist grant professionals who secure the funding necessary for not-for-profits to serve the greater good.
About Us
---
I Heart Grant Professionals.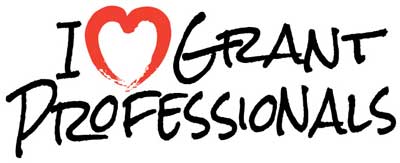 You can do good deeds, change the world one grant at a time, be passionate about your profession, and celebrate your colleagues. Give today to support the GPF and all Grant Professionals! →
Apply Now.
You can learn more about each scholarship and how to apply by using the Scholarships tab in the menu. We hope you'll consider applying!
Scholarships