extra space

GPC Scholarships.
APPLY HERE!

Every year, the Grant Professional Certification Institute (GPCI) and the Grant Professionals Foundation support GPC™ Scholarships for our members. The scholarships are open to any individual eligible to sit for the exam.

The cost to sit for the GPC Exam is $639 for Grant Professionals Association members and $875 for non-members. If awarded, your scholarship will be in the form of a credit to GPCI for all or a portion of the GPC exam cost. Each individual is responsible for covering any additional expenses, including transportation costs to the exam site.
Scholarship applicants are responsible for registering for the exam after a scholarship is awarded . To learn more about this process, visit the Grant Professionals Certification Institute website at www.grantcredential.org.
Scholarships Available:
1. GPC Scholarship AZ Founding Chapter
2. GPC Scholarship DC NCA Chapter
3. GPC Scholarship Central Virginia Chapter (partial)
4. GPC Scholarship Kentucky Chapter
5. GPC Scholarship Heart of America Chapter (partial)
6. GPC Scholarship South Florida
7. GPC Johna Rodgers Consulting Scholarship (open to all)
8. General GPC Scholarship (open to all)
9. Gratitude Scholarship (open to all)
10. Matilda and Emmanuel Onuoha Scholarship – This scholarship is in honor of the donor's parents, especially the donor's mother who without a scholarship would not have been able to go to England for college. The goal of this scholarship is to support African American/Black candidates to help increase the number of Black/African Americans who earn the GPC credential.
11. The Karen Cassidy & Family GPC Scholarship, supporting exam scholarships for those without another fundraising credential, who are not full or part time consultants, unable to receive professional development funds from employer, and a GPA member in good standing (and chapter if applicable); preference to St Louis Chapter or Il/MO resident; may be awarded as partial scholarships.
12. Arts & Culture Scholarship, supporting a GPC exam scholarship for an individual working full-time at an arts & culture agency. This 2022 scholarship was donated by Julie Assel, GPC, Kim Joyce, GPC, and Jillain Veil-Ehnert, GPC.
---
---
CMP Scholarships.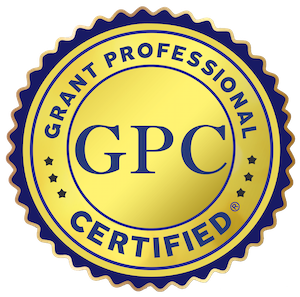 CMP Renewal Scholarships are for eligible GPCs seeking to renew their credentials in next four cohorts (6/1/2022, 9/1/2022, 12/1/2022, & 3/1/2023). Earning the GPC is an achievement that involves a significant investment of resources, both time and money. Ensuring that dedicated grant professionals who give back to the profession can keep their GPC, and that payment for their renewal isn't a barrier, is at the heart of this scholarship. All GPCs are eligible for the GPC CMP Scholarships.
For four of the CMP scholarships, preference will be given for SmarteGrants GPC members. Jo Miller, GPC, Smartegrants Founder, established the SmarteGrants GPC CMP Scholarship to support dedicated grant professionals who have invested in earning their GPC, continued professional development, and the advancement of the grants profession.
The fifth 2022 CMP scholarship is the "Friends CMP Scholarship", donated by four grant professionals.
---
APPLY HERE!