2022 GPF Conference Essay, by Lucas Reed
"Providing the grandeur of the forest depths in the dim seclusion of which you may wander musingly for hours."
— Frederick Law Olmsted, landscape architect, describing his design for Iroquois Park in Louisville, Kentucky, in "Louisville's Olmstedian Legacy" written by Clark Kramer (source: Wikipedia).
I jogged around a curve in the steep path. A small, black-furred dog let out a screeching bark and flashed its teeth at me from its cozy spot in a woman's lap. Moments later, a guy on a dirt bike buzzed by me and zoomed around a metal gate with an attached sign that read "No Vehicles Beyond this Point."
This was Iroquois Park at the south end of the city. It was not what I planned, pictured, or prepared for. It was something better.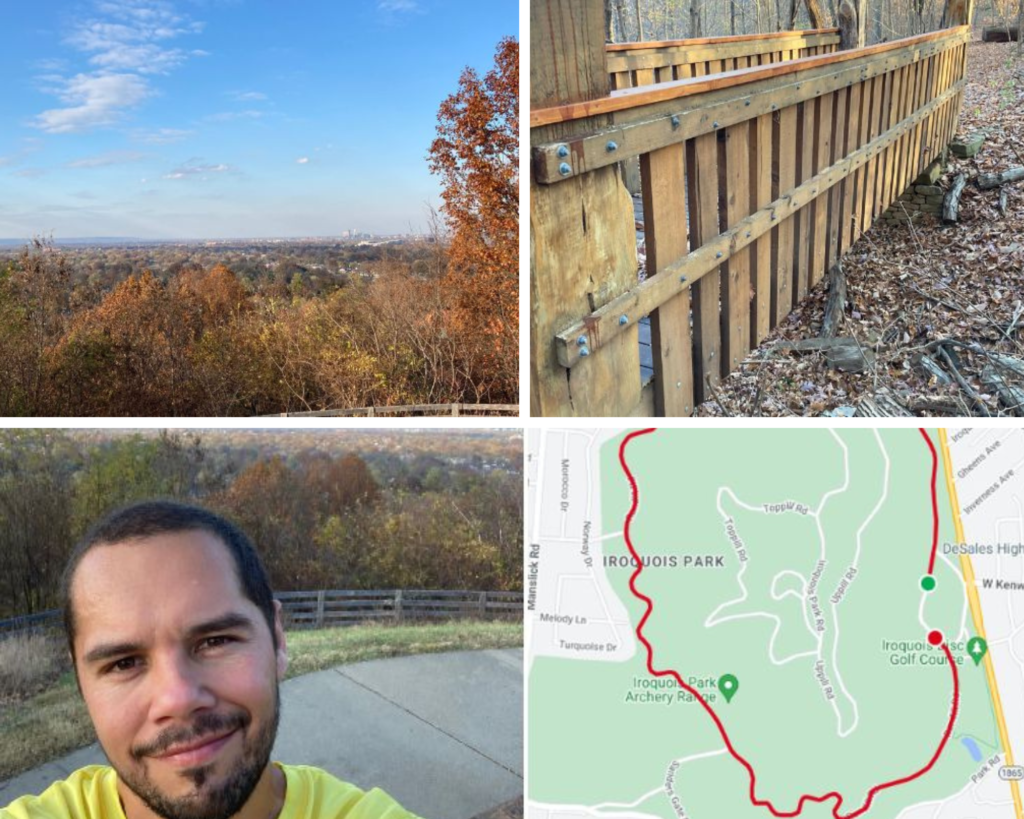 If you came to read an essay about my experience at the 2022 Grants Professionals Association Conference, you're in the right place.
So why am I sharing details about my attempted run at an unfamiliar place? My brief visit to that park served as a living example of what I learned during my time in Louisville.
Lesson One: Planning can sure go south in a heartbeat
My planning for that evening's run was minimal. I discovered the park on Louisville Running Company's website, which suggested a 3.1 mile route that made "one loop around the bottom of the park." It looked simple in 2D—a red line making a circle around the perimeter. But once my shoes hit the ground, the lay of the land confused me and knocked me off course.
In contrast to my run prep, I did extensive planning in advance of the conference. I read through each session's description and looked into the backgrounds of presenters. I must have switched up my pre-scheduled agenda a dozen times in the days leading up to my journey to Kentucky.
When I stepped into the reality of the conference things looked different than what I'd pictured. I found myself making last-minute adjustments to my schedule. Instead of attending Surveying the Post Stimulus K-12 Federal Funding Landscape, for example, I sat in on We all Win: Tips for Grant Writer-Evaluator Collaboration. I also focused less on personal growth, as originally planned, and more on grant budgets.
Even though my run in the park and my conference schedule did not go as planned they were both beneficial in unexpected ways.
Lesson Two: It's okay to slowdown (a little)
Since I usually run on flat sidewalks, when I ventured up a slope my evening jog quickly turned into a walk. It would have helped if I'd paid closer attention to Louisville Running Company's description of Iroquois Park as "one of the hillier locations in the city."
My baseline goal when running is to not stop running once I've started. But when I began gasping for air and seeing tiny specks of light I knew it was time to switch gears and walk.
Traveling to the conference as a scholarship recipient also gave me an excuse to slow things down. The daily swell of emails, proposal deadlines, and reports was set aside for a few days, and replaced with time to listen, absorb, and grow.
This would often happen between scheduled sessions. Like chatting with other grant pros during a jog along the Ohio River, sharing hometown stories and business cards over coffee, or simply gazing out a wall of windows at the Omni Hotel as the sunrise turned the sky into a wild blend of peach, cotton candy pink, and gray.
Sometimes a run becomes a walk and sometimes the busy day-to-day stuff gets put on pause. And that's okay!
Lesson Three: The climb up the hill is always worth it
I opened this essay describing the start of my run at Iroquois Park. The rest of the story went as follows.
After catching my breath and deciding to walk, I made my way up a path that led to an overlook. Here, the road ended in a paved area, framed by a short, semicircle-shaped brick wall.
Near the cliff's edge, treetops swayed in a breeze. At the base of the hill, factories and houses and churches were woven into waves of trees. Rush hour traffic hummed away, hidden beneath green, brown, and yellow foliage. Brick buildings climbed above the lower structures and the glass skyscrapers of downtown huddled together. To the west, rolling hills seemed to blend together into a mass of shadows that met the robin egg blue sky.
I almost chose not head to Iroquois Park that Friday evening (between you and me, I skipped a 4:15pm session). After seeing the view from the top, I was so happy I made the effort to go someplace new.
If you're still reading—thanks, this is getting up there in character count. I bet you can guess where I'm going next.
Yep, attending the conference was like climbing a hill to someplace new. The vantage point I walked away with was invaluable. My climb up the foothills of the grant profession is just getting started, and being able to connect with a whole world of grant pros (this term was new to me) is a scene I deeply appreciated getting to take part in.
In running and in grants, nobody is truly alone. The climb to the top is a team effort and the view up there makes it worth the effort.
https://grantprofessionalsfoundation.org/wp-content/uploads/2023/05/GPF_Logo_2023-340x149png.png
0
0
Grant Professionals Foundation
https://grantprofessionalsfoundation.org/wp-content/uploads/2023/05/GPF_Logo_2023-340x149png.png
Grant Professionals Foundation
2022-11-28 05:38:00
2022-11-28 15:44:00
2022 GPF Conference Essay, by Lucas Reed