GPA Member Benefits are Endless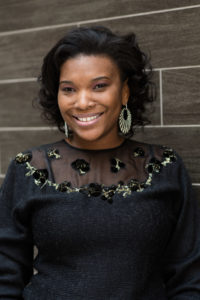 By DeaRonda Harrison
Taking the leap and sharing with my peers to work with nonprofits I could see the stare and gaze of concern in their eyes. In 2013, I attended my first GPA conference where I had never even written 1 grant, yet. I wanted to make sure I was making the right decision. This conference sealed the deal, and I knew this was what I wanted to do. The 2013 GPA national conference was my first BIG date with GPA, and I knew it was time to make a career transition and do more purposeful work. I desired to have a greater impact on people and just because you desire to do good doesn't mean that it won't come with challenges and I had to at least create a plan.
I joined GPA to surround myself with professionals that were experts in the field of grant writing. I knew it was a skill I wanted to pursue further as someone who was thrust into the industry; I thought it would be most advantageous to be around people that knew what they were doing and took their craft seriously. I desired to learn from those proficient in the field and little did I know it would be because of the GPA membership that I would acquire 90% of my clients as a consultant.
I get often asked where I get the majority of my clients, and I typically say through word-of-mouth, but through some shape, form, or fashion they have come from a GPA contact. It was not my intent to become a member to attract clients, but it has become a beautiful residue of my membership.
The GPA member benefits are endless. My membership has allowed me to create relationships with business professionals in the community to include other nonprofit associations and businesses. I have had the opportunity to work with successful grant writing firms as an independent consultant by making connections at both the national and regional GPA conferences.
GPA membership provides professional development. As the grant space shifts, I don't want to get caught up in the way I've always been doing things but change and improve with the industry. The membership provides up to date training and webinars and addresses the concerns with solutions from professionals. I take full advantage of research tools offered to members through GrantStation and GPA's own active Facebook-like community, GrantZone. In this forum, participants ask questions and provide suggestions to help each other and simply make new connections. Associating with other members who are willing to share their business practices and solutions is my top reason for being a member.
I am thankful that the association is ever evolving and comes up with new ideas and new ways to include and support their members. As a former regional board member, I enjoyed the opportunity to connect with other chapter leaders that share their successes with other regions. As a former chapter leader, I was able to garner new relationships with others that understand each other's expertise to be able to serve nonprofits best because not one grant writer can be everything to everybody. I am grateful for the benefit the GPA membership provides with support from GPA staff, chapter leaders, and members.
Telling my peers that I was transitioning from government to solely work with nonprofits would usually lead the reaction "oh um that's rewarding." All I know is that I enjoy grant writing and even though it has its challenges and is not for the faint of heart I wouldn't want to be doing anything else. But with the change in culture and the direct impact of philanthropic efforts especially with the popularity of TED talk videos, it finally makes sense why someone would be interested in changing the world today. Ultimately, it resulted in a more positive reaction from peers of "what a rewarding and purposeful career."
https://grantprofessionalsfoundation.org/wp-content/uploads/2023/05/GPF_Logo_2023-340x149png.png
0
0
Grant Professionals Foundation
https://grantprofessionalsfoundation.org/wp-content/uploads/2023/05/GPF_Logo_2023-340x149png.png
Grant Professionals Foundation
2018-01-16 22:14:31
2018-01-16 22:14:31
GPA Member Benefits are Endless