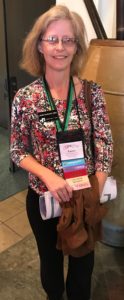 by Laura Horochowski, AZ Founding Chapter Scholar
As I think of the Grant Professionals Association's conference from my work office, I cannot help but think of all the Uber rides that were a part of the trip to San Diego. I was fascinated by the variety of drivers and passengers that were a part of the trip. There were the immigrants from Ethiopia, Venezuela, and Argentina. The young man from Haiti who was just finishing his work shift, studying law, and considering joining the Marines. The gentleman that pointed out all the party features of his SUV, black lights, and speakers, as he told us he usually drives celebrities. The young driver that complained of passengers who had dragged sand into his car, but who then remembered his surprise when a 16-year-old offered to put a towel down so she wouldn't get sand in the car.
I found a similarly fascinating variety of people at the conference. As a new member of the profession and very much a part of the meandering that gets most of us into grant writing, I really enjoyed hearing about the different life paths and educational backgrounds that landed people in the grant writing profession. There were PhDs, scientists, social workers, Navy veterans, art historians, former business executives, and much, much more. I found the creativity to reinvent oneself, the ability to learn along the way, and the adaptability represented among attendees to be inspiring. The variety also gave me a hopeful outlook for the future. It showed me that being a grant professional can be creative, can lead to new opportunities, can evolve, and it can open doors.
Along with the great people, there was also plenty of interesting conference presentations and speakers. I particularly liked the idea of setting up a content library, analyzing where the gaps are in my professional knowledge and using that to plan for career development. The conference gave me a better perspective about my organization, my current position, where I can go, and plenty of topics from the presentations to digest, explore, and possibly implement.
Also, as people shared about how their agencies incorporated grant writing into their processes or for that matter, didn't, I realized I work for a great organization – Child Crisis Arizona. I feel very fortunate to be a part of a very cohesive development department that truly works as a team, to have program staff that participate in creating proposals and feed us data and stories for reports, to have the support of management for professional development and a good work environment, and overall, an organization that works hard to implement best practices for programs and staff.
I highly recommend the conference. It is a great place to meet interesting people, and to learn about yourself and the grants professional's world, plus an opportunity to experience the outside world.
https://grantprofessionalsfoundation.org/wp-content/uploads/2023/05/GPF_Logo_2023-340x149png.png
0
0
Grant Professionals Foundation
https://grantprofessionalsfoundation.org/wp-content/uploads/2023/05/GPF_Logo_2023-340x149png.png
Grant Professionals Foundation
2018-06-15 04:20:16
2018-06-15 04:20:16
My Conference Reflection