Quality and Quantity of Sessions was Abundant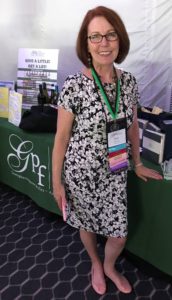 by Jane Arney, Peach State Scholar
The 2017 Grant Professionals Association (GPA) Conference, held at Paradise Point Resort in San Diego, was an incredible gathering of grant professionals in a spectacular setting! I was grateful to receive the Peach State Scholarship from the GPF, which covered my registration fees and made it possible for me to attend. My lodgings were at the off-site Hyatt Hotel since Paradise Point was full, but with a marina view and harbor seals outside my window, as well as a convenient shuttle to the conference every day, this was no hardship at all. The kickoff reception was friendly, the opening session included a hilarious rap, "Baby Got Grants," and the keynote speaker, Tom Ahern, reminded us with humor to simplify our language.
My biggest challenge was narrowing down which sessions to attend since the quality and quantity of selections were so abundant. I decided to focus on the area of grants management. The choice of sessions in this area was especially rich, so sometimes I had to make tough decisions at the last minute. With the help of the handy conference app, I set my schedule on my iPhone, and viewing the presenters' slides and supporting materials ahead of time helped me hone in on my choices. Some of the sessions I enjoyed were "Creating Order Out of Chaos," "Field of Dreams: How to Build a Winning Grant Team," "Nobody Knows the Troubles We've Seen: how to artfully educate colleagues and bosses on what we do." Each of these sessions had amazing presenters with impressive credentials and stellar presentation skills, engaging their audiences with both humor and clarity. I learned a lot and took home several great tips and techniques that I will definitely apply to my job.
Even better than the sessions (if that's possible!) was networking – actually meeting the people I've met virtually in #GrantChat and GrantZone!! A group of us who started a GrantZone discussion about Raiser's Edge were able to schedule a meeting in the conference app and enjoyed a conversation about possible alternatives to the use of multiple spreadsheets, etc. The Georgia chapter enjoyed a convivial dinner out in Old Town San Diego, with Chapter President Meghann Adams leading us to a fun Mexican restaurant.
Overall, the GPA Conference far exceeded my expectations, and I recommend that everyone try to attend the next one!
https://grantprofessionalsfoundation.org/wp-content/uploads/2023/05/GPF_Logo_2023-340x149png.png
0
0
Grant Professionals Foundation
https://grantprofessionalsfoundation.org/wp-content/uploads/2023/05/GPF_Logo_2023-340x149png.png
Grant Professionals Foundation
2018-06-15 04:05:27
2018-06-15 04:05:27
Quality and Quantity of Sessions was Abundant