We Need Your Help! A Letter to the GPF Board and Grant Professionals
Due to an increased focus on Fundraising and the effects on our Marketing and ECC Committees, I am asking for volunteers to help staff these committees. Both will have a lot to do over the next year or two, and, the more resources they have, the better!
I have made a list of the desired skills sets each committee chair outlined. I am requesting that all of you consider volunteering for one of these committees. In addition, please send out this information to your network, as I would like for this to have as broad a reach as possible. GPF Committees are a great way to get involved in the Foundation without the commitment of a board seat. Committee meetings are usually held by conference call either monthly or bi-monthly for an hour.
The ECC Committee will be rebranding the current ECC program in the coming year and needs the following skills sets:
Marketing background
Calling people
Communications
Graphic Design person
If you or someone in your network wishes to volunteer of the ECC Committee, please email Kristi Crawford (Kristi.Crawford@sanfordhealth.org) or Susan Caldwell (susancaldwell1962@gmail.com).
The Marketing Committee is an integral part of the success of our fundraising plan and needs those with the following skill sets. In addition, we are looking for a Marketing Chair (or co-Chairs) starting in 2019:
Sticktoitiveness
Passion, time and willingness to regularly, consistently promote GPF through several social media platforms (including GrantChat) on a daily, weekly or monthly basis.
Ability to complete volunteer tasks independently and with little supervision
Experience with fundraising through social media
Experience creating scopes of work for vendors and marketing, business and/or social media plans
Good organizational/time management skills
Strong speaking and writing communication skills
Graphic design experience or willingness to learn (for ads, social media, website, etc)
Website design experience
Blog writing experience
Mail chimp experience
If you wish to volunteer for the Marketing Committee (or wish to chair or help chair that committee), please email Dr. Judy Riffle at uscdrj@gmail.com.
Thanks in advance for your willingness to help and to help promote these needs to a broad GPA audience!
Micki Vandeloo, GPC
Chair, Grant Professionals Foundation Board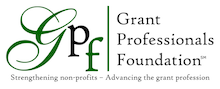 https://grantprofessionalsfoundation.org/wp-content/uploads/2023/05/GPF_Logo_2023-340x149png.png
0
0
Grant Professionals Foundation
https://grantprofessionalsfoundation.org/wp-content/uploads/2023/05/GPF_Logo_2023-340x149png.png
Grant Professionals Foundation
2018-10-24 19:33:17
2020-04-18 19:56:22
We Need Your Help! A Letter to the GPF Board and Grant Professionals